By Eddie Alinea
PhilBoxing.com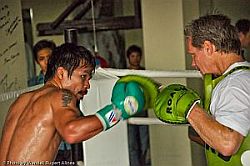 Manny Pacquiao's chief trainer Freddie Roach yesterday expressed satisfaction with what transpired in the first week of the seven-division champion's training in Manila in preparation for his coming fight with Mexican Antonio Margarito for the vacant world super-welterweight crown Nov. 13 in the Dallas Cowboys Stadium in Arlington, Texas.


"It was a very good first week where we achieved what we were trying to accomplish, and more," the 55-year-old four-time "trainer of the year" awardee of the Boxing Writers Association of America told this writer yesterday morning shortly before Team Pacquiao proceeded to Baguio City for the second leg of the Filipino icon's build up program.
"As I told you the other day, Manny has been adjusting remarkably to our program, surprisingly shedding off the rust brought about by a long layoff since his fight with (Joshua) Clottey so that we have already started concentrating on our game plan and strategy ahead of schedule," the former U.S. Olympic team alternate said. The game plan though was not yet 100 percent, according to Roach, adding that everything will be taken cared off in the next seven weeks that he and his training team will stay in the Pines City. "What I want is, when we proceed to L.A. we will only be polishing off what we would have gained here. And it looks like I will get what I want in the same manner that I got what I wanted in our last important fights," the trainer, who spared no words in praise of Pacquiao's attitude.
"Manny is always Manny. He might seem to be doing something other people don't want him to do, but when it comes to training, I can't ask for more. My job is to give him everything to make him happy, while he reciprocates that by giving me everything to make me happy," Roach said by way of describing their boxer-trainer relationship the past nine years. Physical conditioning expert Alex Ariza was, likewise, profuse in lauding the reigning world pound-for-pound king's work ethics, saying Pacquiao has, time and again, make things easier to his handlers. "A regular fighter, after only week's workout could probably groping by this time. But Manny, I would say that he's already 60 percent in shape. Count seven more weeks and you can just imagine how good he will be," Ariza said.
Focus on the coming weeks of preparations will be on sparring which, according to Roach starts tomorrow against two sparmates he brought along when he arrived in Manila last week and a pair more arriving this week. Super-welterweight Michael Medina of Mexico and up-and-coming junior welterweight Glen Tapia will have the first crack at testing Pacquiao's wares at least in the first two days of sparring and whether they, indeed resemble
Margarito's style
of fighting. For Roach, the Pacman is capable of getting all he wants in Tapia, a practically neophyte campaigner who owns an impressive 7-0 win-loss record in his first seven pro-fights, and Medina, who he said, fights more like Margarito. "Both have power in their fists although Michael (Medina) looks moré cocky, which personifies Margarito," Roach said of the two sparmates.
Also lined up as Pacquiao's sparring partner are popular Julio Cesar Chavez and Vanes Martirosyan, who according to the trainer will come mid this week. (Photo taken by Wendell Rupert Alinea. Eddie Alinea is the sports editor of sportsmanila.net)
credits: philboxing.com